A PASSION FOR POUTERS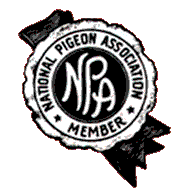 Frank Barrachina
Breeder, Exhibitor
of
Top Quality Pouters
in
*English*Pomeranian*Old German*
*Marchenero*Black Reversewing*
and Other Breeds

Western Vice President National Pigeon Association
MEMBER NPA HALL OF FAME

QUALITY BIRDS IN ALL MY BREEDS
THE BEST OF EUROPEAN AND AMERICAN BLOODLINES
NPA MASTER BREEDER & JUDGE OF ENGLISH POUTERS
The Finest Bloodline of English in America

Grand Champion English Pouter #89 at the 1998 Pageant of Pigeons. Over 385 pouters competing .

The English Pouter, like the Pigmy Pouter are unmatched in the pigeon world for their upright station. When posing an excellent specimen will stand upright so that its eyes will almost line up over the balls of the feet. Well trained show birds will consistently be strutting and show off with its globe well inflated. When walking and strutting this pouter will carry itself elegantly and proudly with strong stepping legs with the feet going forward and not sideways. The perfect manner of walking can be compared to a prancing horse! This playful breed has been in America since the 1870's has has developed a strong following here.

Classic Old German Croppers

First introduced into America in the mid 1940's the Old German Cropper has gained a somewhat large following in recent years. With its playful nature, body length and size the Old German makes a unique addition to any pigeon loft. Colors include selfs in white, black, red, yellow mealy, cream, lark, blue and silver in bar, barless, checkered; self colored with white flights; splashes in light or dark patterns; and tigers.
Marherno Pouters & Other Spanish Pouters
This relatively small pouter was developed in Spain. The Marchenero Pouter is another member of the Pouter & Cropper family has become quite popular in America in recent years.
English Exhibition Homers (r) Show Homers (l)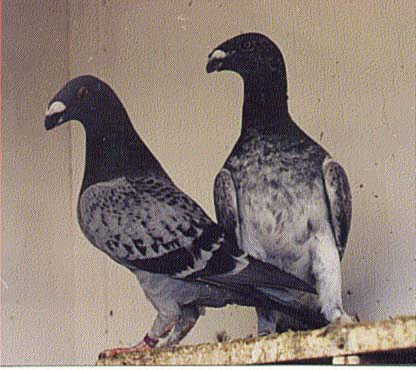 These breeds are large with unique head structures come in a variety of colors. Fast becoming popular in America these birds present a great challenge to fanciers. Although they are considered to be "rare breeds" competition in the showroom is fierce because of the degree of quality available to American fanciers.
Frank Barrachina
12376 Bryant St.
Yucapa, CA 92399
ph- 909-797-9757
Sorry I Don't Have E-Mail
But I'll Answer Your Letters and Return Your Call Immediately