Books
Amazon Books - A great place to find those "rarer pigeon books".
Individual Book Sales Listing. Buy and Sell Books! Click Here to Visit the Bookstore.
Encyclopedia of Pigeon Standards - The NPA Pigeon Breed Standards Collection. Click here for order form.
Wonderful World of Pigeons Coloring Book - The NPA Coloring Book containing the artwork of Diane Jacky. Click here for order form.
A Veterinary Approach to Pigeon Health
- by Dr. David Marx, DVM. An excellent book on pigeon health related topics. This book can be ordered from the RACING PIGEON DIGEST
Encyclopedia of pigeon breeds. By Wendell Levi Mint condt. 65$ Rudy E mail
Formaso@aol.com
WALTER AMOS BOOK SELLER - A great place to locate those older and hard to find books.
Miscellaneous
Web Sites Design and Rental
* Your Home Page on the Internet* *Promote Your Breed, Club, Etc.*
*Advertise Your Pigeons or Pigeon Products on Your HOME PAGE*
Design and Set up Fees for as little as $25.00 per page.
Promote Your Breed by wearing your favorite breed on a Tee! We can make a custom one for your club, place your photograph or image on an Iron On and add your custom lettering. Prices begin at $5.00 including postage and handling. Contact PW Productions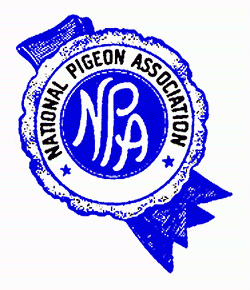 NPA Grand National Pins: These are fast becoming collectors items! We have pins in stock for: "88" Peoria - "89" Salt Lake City - "91" Milwaukee - "92" Lancaster - "93" Portland - "94" Oklahoma - "95" Salt Lake City - "96" Lancaster. Pins are $3.00 each, postage paid. Please specify the pin that you are ordering. Contact the NPA for orders.
National Pouter & Cropper Club Promotions Shirts, Hats, Coffee Mugs, etc.
JTEX DESIGNS - Plans for Dovecote